| | | |
| --- | --- | --- |
| | | |
Franziskaner Hefe-Weizen* 0,5 l
Paulaner Hefe-Weißbier 0,5 l
Erdinger alkoholfrei 0,5 l
New Castle Brown Ale 0,5 l
Miller Genuine Draft 0,33 l
Altenmünster urig/würzig 0,33 l
Beck's/Beck's Gold 0,33 l

Coca-Cola, Fanta, Sprite

Past:
01. May '01 - First little party
21. October '01 - "Grand Opening"
01. February '02 - Birthday Harald
16. February '02 - "Second Big One"
25. May '02 - Birthday Saskia
08. February '03 - Birthday Party Harald
08. March '03 - "Remember Rock" Party
27. July '04 - "Reunion 2004"
31. Dec. 2004 / 01. Jan. 2005 - "New Year's Eve"
31. Dec. 2008 / 01. Jan. 2009 - "New Year's Eve II"
"10 Years - 7 Months - 30 Days WMB":
31. Dec. 2011 / 01. Jan. 2012 - "New Year's Eve III"

( ... to be continued )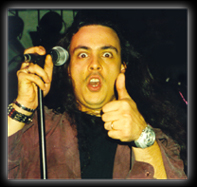 It started when I still was living at my mom's home. I had the dream of having a place at home where I could feel free and think for a long time of nothing else than of me and my life. I already had my computer and my drums in the basement but that was not enough.
The second reason was that Jan, Tobias and I often went to bars or pubs which is very expensive and therefor I decided to built a place of my own to sit together and have some beer. I spent a lot of money for a new floor for the room, for the wallpaper, for furniture, for the stereo, for the decoration (posters, bar mirrors, beer signs, souvenirs,...) and at least a lot of money for the bar itself and the cool "Miller's Genuine Draft" 2m fridge. It took me many month to make this all happen. Even though it had been very expensive, it was worth all the money I think. I have been very often in my bar and enjoy music and beer down there when I still lived there.
I hope in future this page and the Metal-Bar itself will be a place for my friends, for bands and drummers and of course for me to meet. The page shows all photos from "Weenie's Metal-Bar". I hope you will have a lot of fun seeing the photos and maybe you will one day be my guest and will be served a cold beer - prices are very good and the music played in here is the best!? ;-)
Photos:
left corner: Jørn Lande (MASTERPLAN) and me,
text/left: Rob Tyrant (LABYRINTH),
text/right: Pumpkin Andreas Deris (HELLOWEEN)



The "Metal-Bar" would not have been possible without the help of the following people ...

Jan for big help with carrying the bar, fridge,..., Karsten (Elektro Elsner, Hannover) for the electrical installations, Katrin (Backstage, Hamburg) for support with glasses, beer-mats, Guinness items, Sebastian (Godlike) for his old bass-guitar, AS-Gastro (Germany) for very cool mirrors of Guinness, New Castle, Dolcé Vita (Mode-Café, Hannover) for the Franziskaner mirror,.., Ricklinger Bierbrunnen (Hannover) for the food and for Franziskaner items, All my trade partners at eBay.de for most of the stuff in the room, Art Deko (Hannover) for the 'poster-saver', Rainer (Hannover) for the frames for some of the posters, Stadtsparkasse Hannover for the money to buy everything ;oP , to my mom for letting me make noise in her house and making a PUB out of the basement, All Bands and musicians for all the signed items and last but not least to all guests that made/make the bar alive in the past and in the future!

January, 3rd 2009: I added more than 35 brand-new pics of

"New Year's Eve - Back Again"

in "Weenie's Metal-Bar", enjoy!

January, 5th 2005: I added a lot of brand-new pics of

"New Year's Eve"

in "Weenie's Metal-Bar

August, 15th 2004: I added a lot of new pics from

July '04

and eked the

Crew & Guests

section!

June, 28th 2003: I added a cool page with photos of the last Hamburg trip in

May '03

!

May, 26th 2003: Last Party-photos from

March '03

added,

Crew

added

February, 13th 2003: Many new photos from

my party

added

February, 1st 2003: The Metal-Bar page goes online

November, 17th & 18th: the page is re-designed and re-organised

November, 15th 2002: the new URL (

http://www.metal-bar.de

) goes online




This page is presented to you by ' The Little Helloweenie ', the Webmaster.
All rights reserved, do not copy anything from this page without permission!
© 2002-2009 Copyright by "Weenies Metal-Bar"